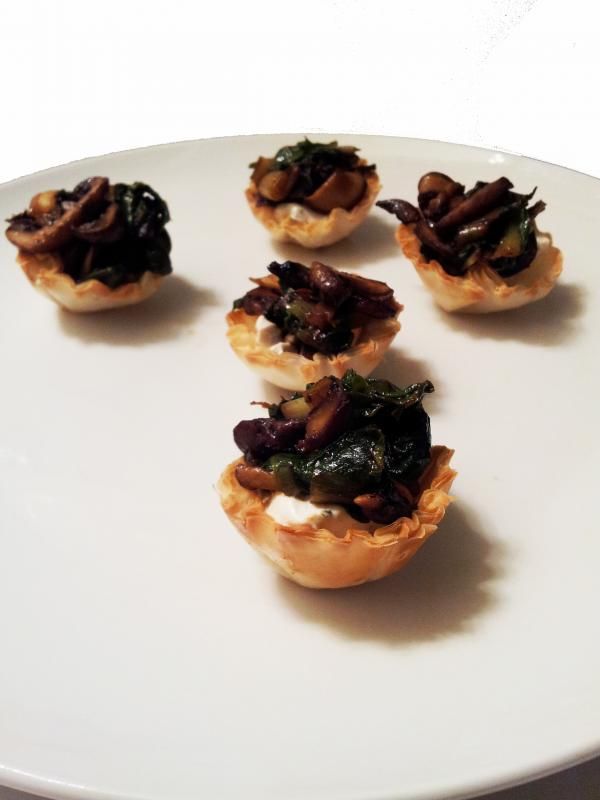 These irresistibly tiny tarts are packed with a punch. Each one starts with a smooth cream cheese layer on the bottom and ends with caramelized mushrooms, leeks and sauteed rainbow chard leaves floating on top. Make as an appetizer or eat these as a meal like my husband and I did. Use your favorite kind of mushroom for the filling. This time of year the "mushroom guy" starts showing up at the Farmer's markets and while pricey, those mushrooms are supreme. You don't need much for this recipe so splurge a little on those morels or lobster mushrooms. You won't regret it!
One Year Ago Today
Shredded Chicken Pupusas with Rhubarb Plum Salsa
Two Years Ago Today
Dandelion Salad with Hazelnuts, Green Beans and Orange Citronette
Wild Mushroom & Leek Tartlets
yields 15 mini tarts
2 tbl extra virgin olive oil
6 oz wild mushrooms (morels, hen of the woods, oyster, lobster, chanterelle)
1 leek, thinly sliced
1/2 cup vegetable broth, divided
2 garlic cloves, minced
1 small head rainbow chard, stems removed, chopped into small pieces
salt, pepper & red pepper flakes to taste
1 tsp dried dill
1/4 cup herbed vegan cream cheese
1 box frozen mini phyllo tart shells, thawed
Saute the mushrooms and leeks in olive oil over medium heat until lightly caramelized, 10 minutes. Add 1/4 cup vegetable broth to deglaze the bottom of the pan. Once the broth has been absorbed, add the garlic and chard. Season with salt, pepper, red pepper flakes and dill. Cook until the chard has wilted down then continue to saute for 10 minutes more. Deglaze the bottom of the pan with the remaining 1/4 cup of broth and cook 3-4 minutes more until the broth has evaporated.
Taste and season with salt and pepper.
Fill each mini tart shell with 1 tsp of cream cheese and top with mushroom mix.
Enjoy!