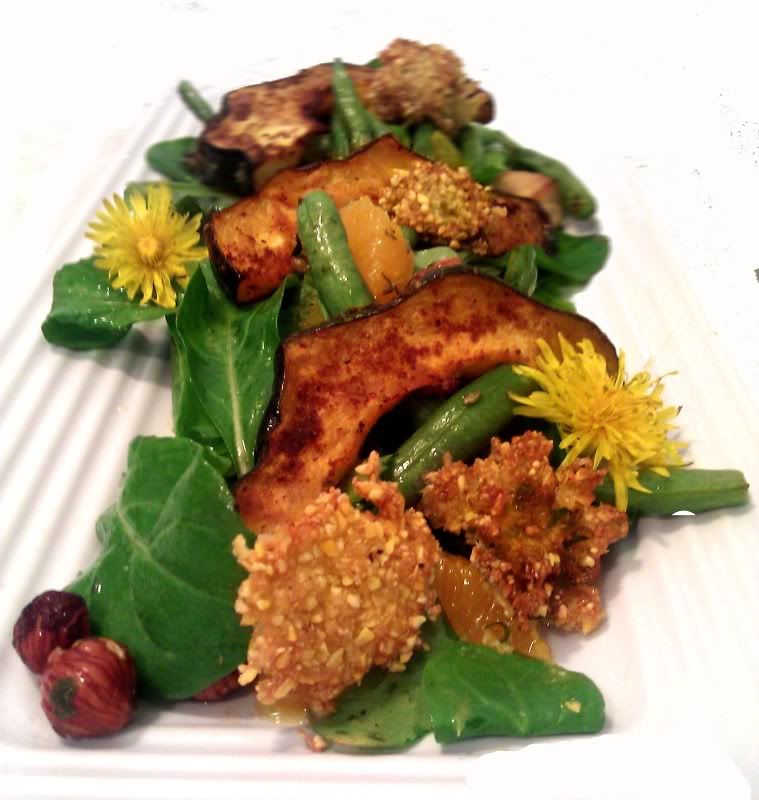 If you aren't going to weed 'em, eat' em!
Dandelions aren't particularly amazing. I don't sit at home and dream about meals filled with dandelion flowers, but they are quite nice dusted in a bit of cornmeal and crisped up on top of salads...best of all, they're free! Just make sure you don't pick any ole dandelion. Get them from yards where you can be assured they aren't covered in weed chemicals. Make sure to trim off all the little green leaves near the top of the flower because they are super bitter. I love the way they look and I love being able to pick my own food, win win!
Sweet roasted acorn squash and green beans, tossed with orange slices, toasted hazelnuts, greens and crunchy dandelion flowers dressed in a bright orange citronette.
Dandelion Salad
1 acorn squash, thinly sliced
2 tbl extra virgin olive oil
1 tbl maple syrup
1 tsp cumin
1/4 tsp paprika
1/8 tsp red pepper flakes
salt and pepper
25 green beans, ends trimmed
15 dandelions
1/4 cup yellow cornmeal
1/4 tsp dried ginger
1/4 cup unsweetened oat milk
3 cups baby arugula
1/2 cup toasted hazelnuts, roughly chopped
1 orange, supremed
1 tsp fresh thyme leaves
peanut oil, for frying
Preheat the oven to 425. Toss the squash with oil, maple syrup, cumin, paprika, red pepper flakes, salt and pepper to taste. Arrange in a single layer on a baking sheet and roast for 15 minutes. Turn each slice over, add the green beans and roast 15 minutes more.
In a small saute pan, pour a 1/4" layer of peanut oil and preheat to 350 degrees. Trim all the green leaves off the dandelions, keeping the stems on. Dip the dandelions in the milk then coat in a mixture of cornmeal, salt, pepper and ginger. Drop into the oil and cut off the stem. Fry for 2 minutes until golden brown. Drain on a paper towel and sprinkle with salt.
In a large bowl combine the arugula, hazelnuts, orange slices, fresh thyme and green beans. Toss with orange citronette, to taste. Arrange on a plate with squash slices and fried dandelions.
Orange Citronette
2 tbl fresh orange juice
1/4 cup extra virgin olive oil
4 basil leaves
salt and pepper
Combine all of the ingredients in a blender and blend until thick and creamy.