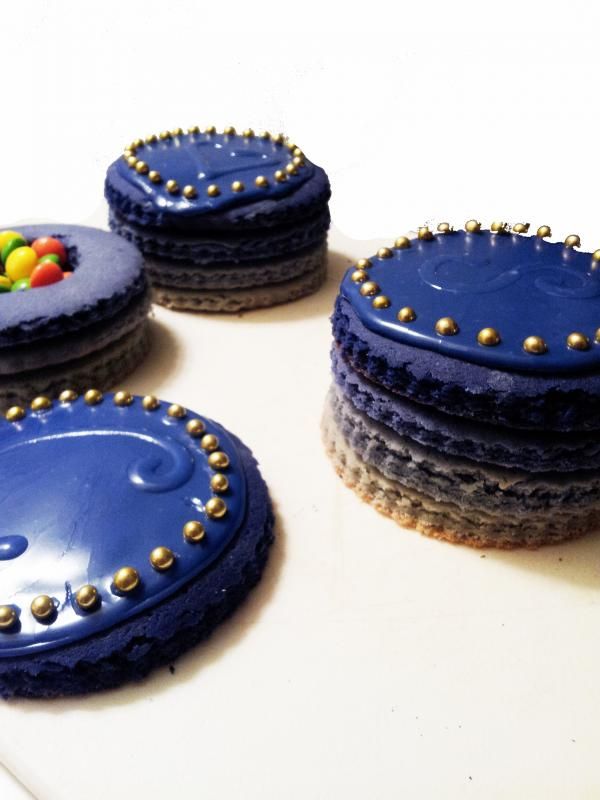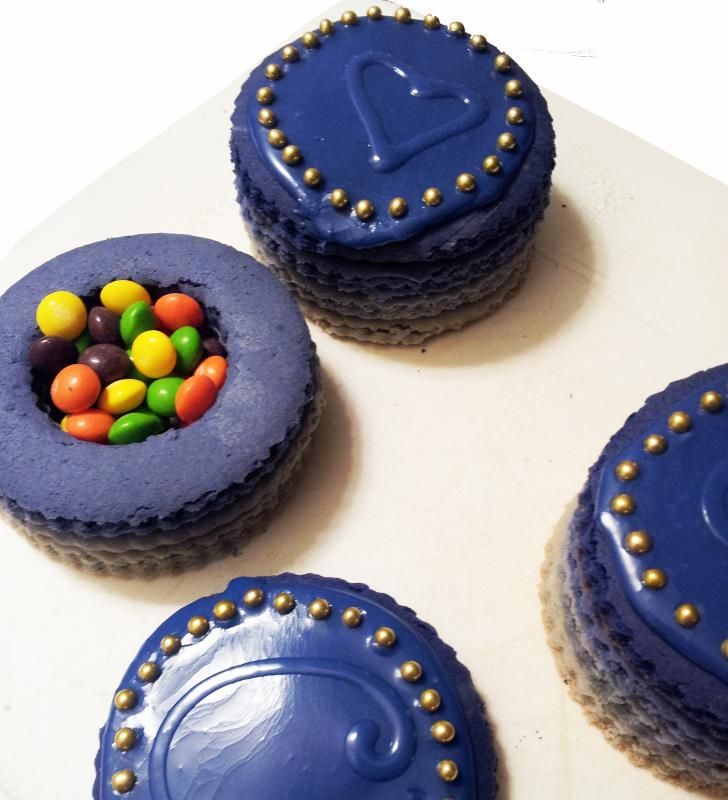 How cute are these little cookie boxes!? And they couldn't be more simple. Once the cookies are baked, just stamp circles out, glue with royal icing, fill with candy and top with a final cookie! Cut out the cookies in any shape, like trees for Christmas or hearts for Valentine's Day.
Sugar Cookies
yields 16 cookies or 4 complete boxes
1 1/2cups organic powdered sugar
1 cup vegan butter, room temperature
1/4 cup almond milk
1/2 tsp almond extract
1/4 tsp vanilla extract
2 1/4 cups all-purpose flour, plus more for rolling
1 1/2tbl cornstarch
1 tsp cream of tartar
1 tsp baking soda
food gel paste, color of your choice
small candies, for the center
Cream together the powdered sugar and butter until light and creamy. Add the milk and extracts and combine. Add the flour, cornstarch, cream of tartar and baking soda and mix together.
To get the ombre effect:
Put in a touch of color and mix to combine throughly. Remove 1/4 of the dough and set aside. Add more color and mix. Remove 1/4th of the dough and set aside. Add more dye and mix, remove 1/4th of the dough and set aside. Add 1 final amount of color to achieve the darkest color.
Wrap all 4 balls of dough up individually and chill for at least 2 hours.
Preheat the oven to 350.
Flour the counter top and roll out one disc of dough at a time 1/4" thick. Stamp out 4 circles from each color. Bake for exactly 10 minutes.
The lightest colored cookie will be the bottom and are finished.
Stamp a smaller circle out of the second and third lightest colors while the cookies are still hot.
The darkest color cookie will be the top.
Royal Icing
2 cups organic powdered sugar
1 1/2 tbl almond milk
1 tbl light corn syrup
1/2 tsp vanilla extract
food colors/sugar decorations
Whip the sugar, almond milk, corn syrup and vanilla until thick and smooth.
To assemble cookie boxes:
Pipe a layer of royal icing around the edge of the bottom cookie. Top with a cookie with a punched out center. Pipe another layer of royal icing on top and top with the third cookie. Fill with candy and place the 4th, whole cookie on top. Decorate the top cookie with royal icing.