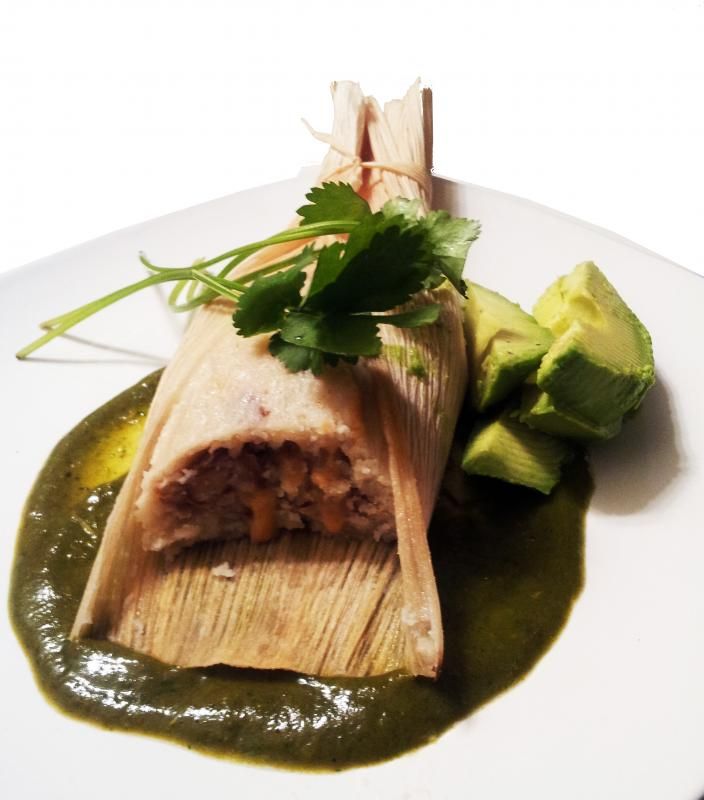 A lot of my food ideas come from each a version of that food earlier in the day or week and being completely dissatisfied with it. Earlier today I purchased a poblano tamale and it was boring and plain tasting. Immediately I wanted to give back the credit tamales deserve and make a batch for dinner to enjoy. These did not disappoint!
One Year Ago Today
Coconut Tempeh Skewers with Sweet Chili Dipping Sauce
Two Years Ago Today
Fennel Apple Salad
Simple masa dough encased around pinto beans, vegan cheddar and steamed to perfection. Serve with thick avocado slices and smother in roasted tomatillo and poblano sauce.
Bean & Cheese Tamales
4 large tamales
basic masa dough:
2 cups masa
2 tsp salt
1 3/4 cup water
1/2 cup solid coconut oil
Combine the masa, salt and water. Stir to combine. The dough will be somewhat dry. Crumble the oil in the dough in small pea sized chunks and mix into a smooth, soft dough. Divide into 8 even sized balls.
filling:
8 dried corn husks, soaked in water until tender and pliable (at least an hour)
1 cup pinto beans, drained and rinsed
1/4 cup shredded vegan cheddar
1/4 tsp salt
Lay out four large corn husks, wide end closest to you. 2 balls of masa go in each tamale. Flatten one ball into a long rectangle and sit in the center of the corn husk.
Combine the beans, cheddar and salt in a bowl, mash lightly.
Spoon some of the bean filling in the center of the masa. Flatten the second ball in your hands to the same size as the masa on the husk. Cover over the beans and seal the edges.
Wrap the husk as far around the masa as you can. Take a second corn husk and cover the top and bottom. Peel a string of husk off and use that as a tie. Assemble 4 tamales.
Prepare a steamer and cook for 30 minutes until the dough has cooked through.
Tomatillo Poblano Sauce
5 tomatillos (mine were TINY, about the size of large gumballs)
3 garlic cloves, whole
1 poblano pepper, whole
4 tbl extra virgin olive oil, divided
sea salt, to taste
3 tbl cilantro leaves and stems
2 tbl water
1 tbl lemon juice
Preheat the oven to 450.
Toss the peeled tomatillos, garlic and whole poblano pepper in 2 tbl of olive oil and season with salt.
Roast for 30 minuts until tender and lightly charred.
Remove the stem and seeds from the poblano.
Combine all of the roasted vegetables along with the remaining 2 tbl of olive oil, cilantro, water and lemon juice in a blender. Blend until smooth. Taste and season with salt and pepper.