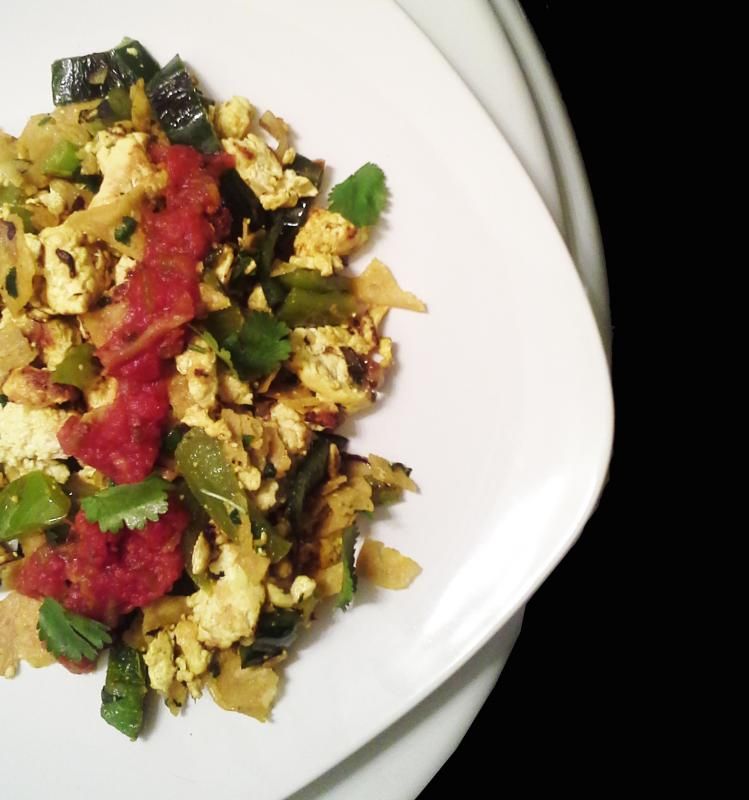 Migas differ from country to country drastically from a garlic soup dish in Mexico with pork and day old bread to a Spanish version served with chorizo and grapes. My version takes a Tex Mex direction and imitates a popular scrambled egg dish with crushed, fried corn tortillas.
One Year Ago Today
Vietnamese Pho
Two Years Ago Today
Stuffed Eggplant
Traditional tex mex migas made vegan starting with tofu scramble and adding poblano peppers, serrano chilies, green sauce and crispy tortilla chips.
Tex Mex Migas
serves 2-3
1 tbl extra virgin olive oil
1 shallot, roughly chopped
1 green bell pepper, medium dice
1 poblano or hatch chile, medium dice
1 serrano pepper, thinly sliced
1 lb extra firm tofu, drained and pressed at least 1 hour
1/2 tsp turmeric, optional for color
salt and pepper, to taste
1/4 cup roughly chopped cilantro
1/4 cup green chile sauce
2 handfuls tortilla chips, crushed
salsa, for garnish
Saute the shallots, green bell pepper, poblano and serrano chilies in olive oil until tender and fragrant, 7 minutes. Crumble in the tofu and season with turmeric (if using), salt and pepper. Cook over medium high heat for 10 minutes until the vegetables are caramelized and the tofu has lightly browned. Remove from the heat and add the cilantro, chile sauce and tortilla chips.
Stir to combine and serve with salsa.