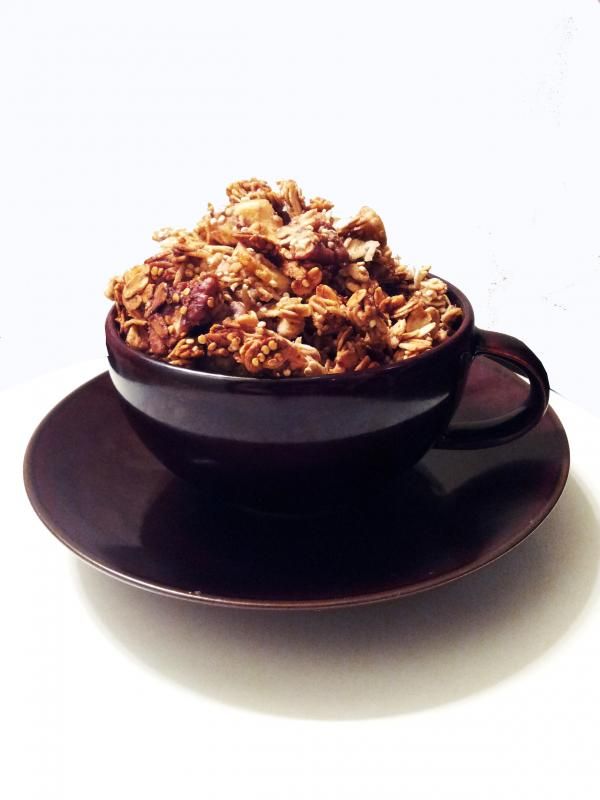 Granola is a never ending, endless flavor producing, nutritious snack, breakfast with fruit and yogurt or topping on ice cream. If you are a fan of banana bread then jump on this granola!
One Year Ago Today Grilled Balsamic
Tempeh with Potato Pea Salad and Minted Walnut Dressing
Two Years Ago Today
Ice Cream Sandwiches
Rolled oats, quinoa, walnuts, banana chips and flax seeds tossed in sweet banana puree and a touch of coconut oil and roasted into crunchy clusters.
Banana Bread Granola
yields 4 cups
3 cups old-fashioned rolled oats
1/2 cup raw quinoa
1/2 cup crushed banana chips
1/2 cups roughly chopped raw walnuts
1/4 cup flax seeds
1 tsp cinnamon
1/4 tsp salt
1/2 cup light agave
3 tbl melted coconut oil
2 bananas
1 tsp banana extract, optional but adds awesome flavor
Preheat the oven to 300.
Combine the oats, quinoa, banana chips, walnuts, flax, cinnamon and salt in a large bowl.
In a blender, combine the agave, oil, bananas and optional banana extract. Blend until smooth then mix with the dry ingredients.
Spread out in an even layer on a baking sheet and bake for 1 hour, stirring every 20-30 minutes to ensure even baking.
Store in an air tight container.