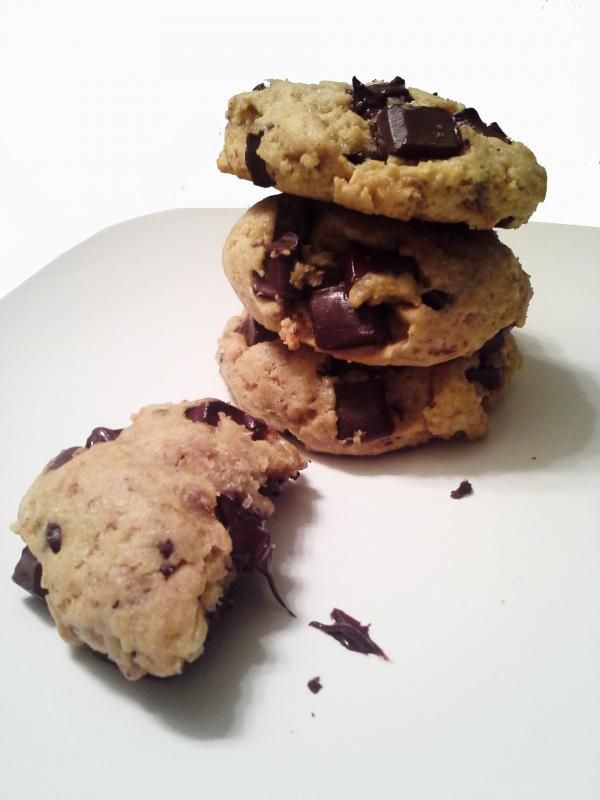 Sometimes you want a cool shirt you see online but you don't want to pay for it. And sometimes the person who makes those shirts will give you one in exchange for cookies. Nothing tastes better than a barter.
other cookie recipes:
S'mores Cookies
Vegan Tagalongs
Soft, toffee scented cookies studded with dark chocolate chunks and sprinkled with sea salt.
Brown Butter Chocolate Chunk Cookies
yields 12
1/2 cup vegan butter
1 cup organic light brown sugar
1/2 cup turbinado sugar
1 tsp vanilla extract
1/4 tsp sea salt
1/4 cup water
2 tbl ener-g egg replacer
2 cups all-purpose flour
2 tsp baking powder
8 oz dark chocolate chunks
coarse sea salt, for sprinkling
Preheat the oven to 350. Line 2 baking sheets with parchment.
Melt the butter, brown sugar and turbinado sugar together and continue to boil for 3 minutes. Add the vanilla and salt and set aside to cool for 15 minutes.
Whisk the water and egg replacer together until frothy. Add to the butter.
Combine the butter mixture with flour and and baking powder. Stir in the chocolate chunks.
Scoop 12 cookies and place them 2" apart on a baking sheet. Press down to flatten. Sprinkle the tops with coarse sea salt. Bake for 12-15 minutes.