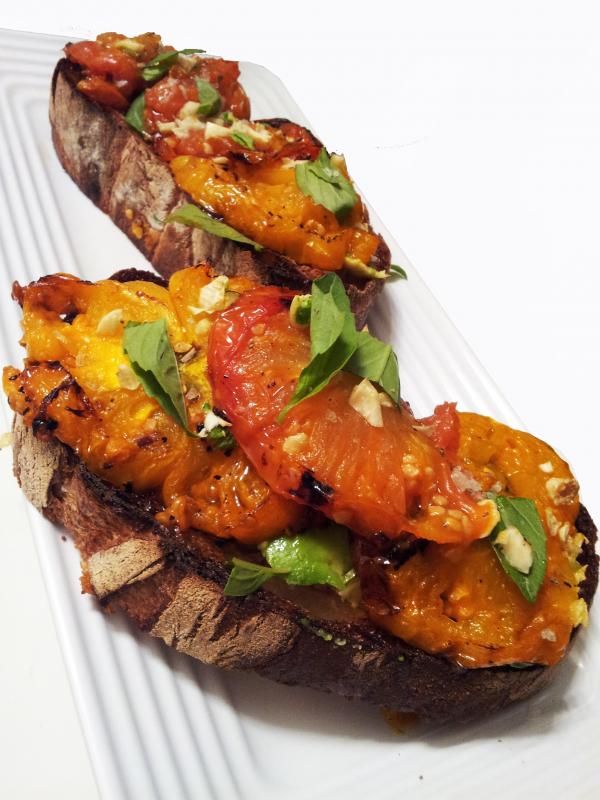 Gone are the days of boring old bruschetta with diced, bland tomatoes and some slivers of basil. It's a new day and a new season and tomatoes are starting to taste like tomatoes again! Use the best tomatoes you can find. Organic heirloom tomatoes are no longer impossible to find and provide a robust flavor to pair with avocado, garlic and basil. They are sturdy and can handle being roasted, allowing the skins to get caramelized and charred while the flesh becomes perfectly tender.
One Year Ago Today
Chorizo Cauliflower Enchilada Pie with Homemade Red Sauce
Two Years Ago Today
Carrot Soup with Cinnamon Oil
Thick slices of crusty ciabatta, toasted garlic, fresh basil leaves, creamy avocado and salt-roasted heirloom tomatoes create the finest bruschetta you will have this summer! Eat this in large slices for a meal or in small pieces on a baguette for appetizers.
Roasted Heirloom, Avocado & Basil Bruschetta
serves 2 as a meal
3 large heirloom tomatoes, 1/2" slices
2 tbl extra virgin olive oil
coarse sea salt, to taste
black pepper & red pepper flakes, to taste
3 garlic cloves, minced
1 avocado, thinly sliced
4 thick pieces of ciabatta
1/4 cup fresh basil leaves
Preheat the oven to 425.
Drizzle a little olive oil on a baking sheet and lay the tomato slices down flat, spaced out. Drizzle the tops with olive oil, salt, pepper and red pepper flakes. Roast for 15 minutes then turn on the broiler. Cook under the broiler for 5 minutes or so until the edges are lightly caramelized.
Lay the pieces of bread on a baking sheet and drizzle with olive oil. Sprinkle the garlic on top and place under the broiler for 5 minutes or less until the bread and garlic are toasted.
Lay pieces of avocado on the bread, sprinkle a few pieces of basil on and top with roasted tomato slices. Sprinkle with more basil leaves and a pinch more of coarse ground sea salt.