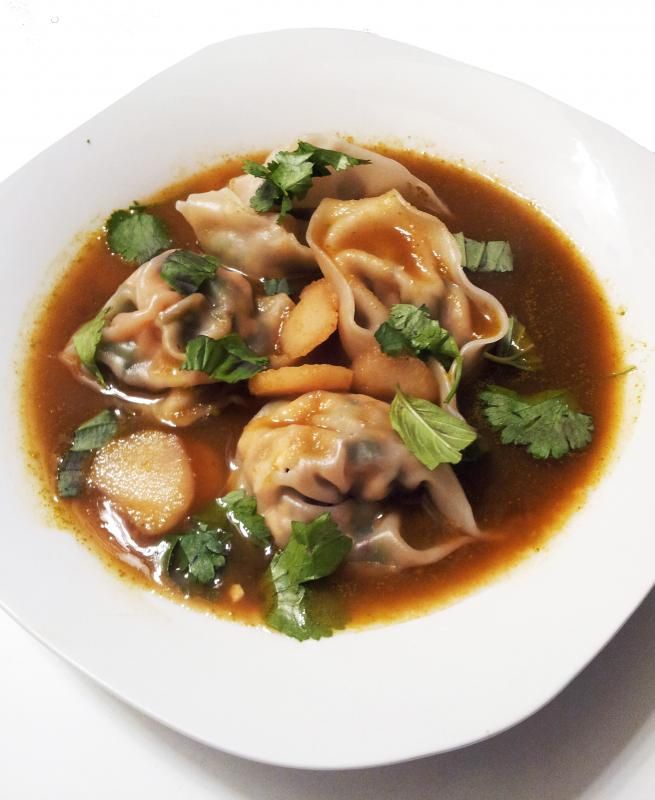 Making your own wontons are easy and can be custom made to fit your palette. Once spring rears its head, I like to incorporate asparagus and onions into my diet. These asparagus dumplings still have a little crunch to them, making the silky onion broth a perfect companion.
One Year Ago Today
Mock Tuna Cucumber Rolls
Two Years Ago Today
Quinoa Vegetable Pineapple Boats
Fresh asparagus, ginger & tofu wrapped tightly in wonton wrappers and floating in a warm bowl of spring onion broth infused with scallions, more ginger and water chestnuts.
Spring Onion Broth
4 cups vegetable broth
2 bunches scallions, roughly chopped (3 tbl reserved for dumplings)
1" piece fresh ginger, roughly chopped
1 tsp tamari
salt, to taste
1-4oz can sliced water chestnuts, drained and rinsed
Combine the broth, scallions and ginger in a blender and blend until smooth. Strain into a medium sized pot and add the tamari. Bring to a boil, reduce to a simmer and cook for 20 minutes. Season with 1/2 tsp salt and add the water chestnuts.
Continue to simmer for 10 more minutes. Taste and season with salt if necessary.
Asparagus Dumplings
serves 2-3
2 tbl extra virgin olive oil
1 bunch asparagus, minced
3 tbl reserved chopped scallions
1 tbl fresh lemon zest
2 garlic cloves, minced
1 tsp fresh minced ginger
6oz firm, silken tofu, mashed
1 tbl tamari
1/4 tsp toasted sesame oil
1/4 tsp pepper flakes
salt and black pepper
15-20 wonton wrappers
3 tbl fresh basil, roughly torn
3 tbl fresh cilantro, roughly torn
Saute the asparagus and scallions in olive oil until just tender, 5 minutes. Add the lemon zest, garlic and ginger and toast. Add the tofu, tamari, toasted sesame oil and red pepper flakes. Cook together for 10 minutes over medium heat. Taste and season with salt and pepper.
Prepare a pot of boiling water.
Lay the wrappers on the counter top. Spoon a small mound of asparagus mixture into the center.
Dip your finger into a bowl of water and lightly wet the edges of the wonton wrappers. Fold up each wrapper into triangles, pressing the edges together to seal.
Once all of the wrappers are sealed, drop in the water and cook for 4 minutes.
Gently scoop out the wontons and serve in a bowl of onion broth. Garnish with fresh basil and cilantro.