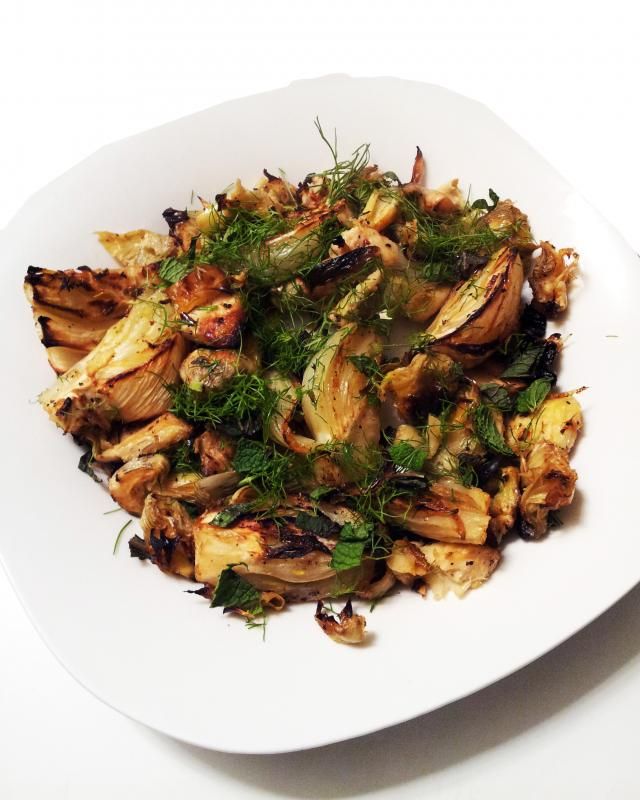 One Year Ago Today
Chicory Pudding Cake with Salted Butter Pecan Ice Cream & Bourbon Ganache
Two Years Ago Today
Squash Wontons in Chili Ginger Broth with Baby Bok Choy
Roasted, sweet fennel, artichokes & garlic tossed with fresh fennel fronds, mint and lemon.
Fennel & Artichokes
serves 2 as a side
1 large fennel bulb, cut into wedges, fronds reserved for garnish
1-15oz can quartered artichokes, drained and rinsed
3 garlic cloves, smashed and halved
2 tbl extra virgin olive oil
juice and zest from 1/2 lemon
salt and pepper, to taste
1/4 tsp red pepper flakes
8-10 mint leaves, roughly chopped
Preheat the oven to 425.
Toss the fennel, artichokes and garlic with olive oil, lemon juice, zest, salt and pepper to taste and red pepper flakes.
Roast in an even layer on a baking sheet for 30 minutes then turn the broiler on. Place the baking sheet on the bottom rack of the oven and cook for 8-10 more minutes until lightly charred.
Toss with 3 tbl roughly chopped fennel fronds and mint leaves. Taste and season with salt.