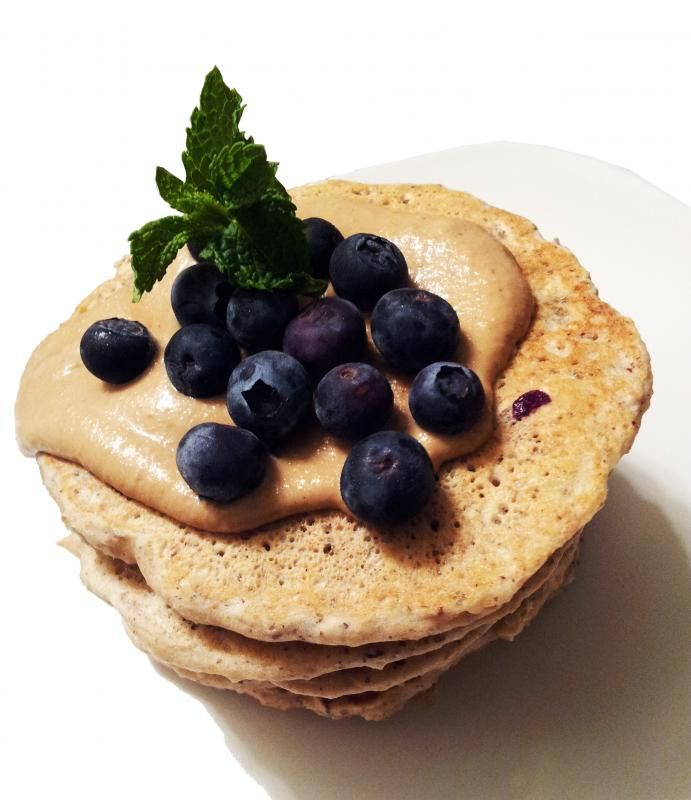 I put these pancakes up because I like the flavor combination but I must admit they aren't the lightest batch of pancakes I've ever made. Two pancakes slathered with chai cashew cream and fresh blueberries was enough to fill me up. Somehow my husband ate five. So I guess it's just a matter of how bottomless of a pit your stomach is.
One Year Ago Today
Portobello Benedict with Black Bean Cakes & Chipotle Hollandaise
Two Years Ago Today
Grilled Taco Salad
Spiced oatmeal-flax pancakes stuffed with fresh blueberries and topped with thick, lightly sweetened chai cashew cream.
Oatmeal Chai Blueberry Pancakes
yields 10 medium sized pancakes
6 tbl water
2 tbl ground flax seeds
1 1/2 cups old fashioned rolled oats
1 cup all purpose flour
2 tbl organic light brown sugar
1 tsp baking powder
1/2 tsp ground ginger
1/4 tsp salt
1/4 tsp cinnamon
1/8 tsp ground cardamom
1/8 tsp nutmeg
1 3/4 cups unsweetened vanilla almond milk
2 tbl melted coconut oil, plus more for cooking
1 cup fresh or frozen blueberries, plus more for garnish
Whisk together the water and flax seeds and chill while your prepare the rest of the batter.
Process the oats in a food processor until finely ground. Add the all-purpose flour, brown sugar, baking powder, ginger, salt, cinnamon, cardamom and nutmeg. Pulse to combine.
Add the almond milk and oil and pulse 2-3 times to combine. Add the flax egg and blend.
Stir in the blueberries.
Heat a saute pan or skillet and lightly grease with coconut oil. Using a 1/4 cup measure, ladle pancakes onto the griddle and cook until lightly golden and cooked in the center, about 5 minutes total.
Garnish with fresh blueberries and chai cashew cream.
Chai Cashew Cream
1 1/4 cup unsweetened vanilla almond milk
1/2 cup raw cashews
3 tbl organic light brown sugar
4 bags of your favorite chai tea
1/4 tsp cinnamon
1/8 tsp ground ginger
1/8 tsp ground cardamom
Combine all of the ingredients in a small pot and bring to a boil. Reduce to a simmer and cook for 10 minutes. Remove from the heat and let sit for 5 minutes. Toss the tea bags and transfer to a blender. Blend until thick and smooth.