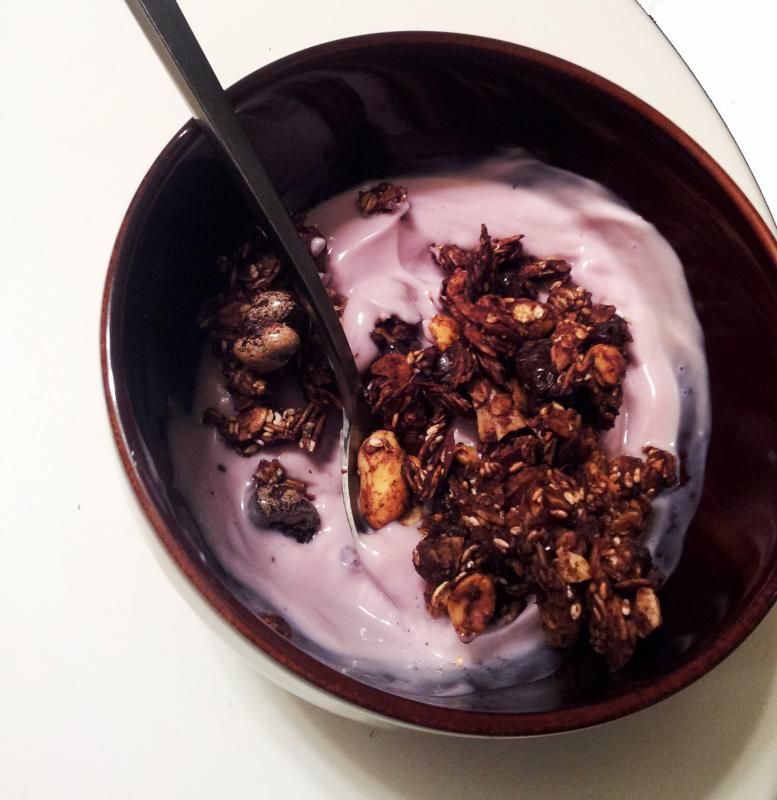 One Year Ago Today
Chocolate Oat Breakfast Smoothie
Two Years Ago Today
Short Rib Sandwich with Caramelized Red Onions, Mushrooms & Cheese Sauce
This granola takes seconds to prepare and is a truly healthy blend of oats, nuts and seeds sweetened with pureed dates, cocoa and cinnamon.
Sugar Free Chocolate Granola
yields 4 cups
20 pitted dates
3 tbl melted coconut oil
1/2 cup water
3 tbl cocoa powder
3 cup regular or gluten free old-fashioned oats
1 cup sliced almonds
3/4 cup salted, roasted peanuts
3 tbl sesame seeds
2 tbl cinnamon
1/2 tsp sea salt
1 cup chocolate covered raisins
(optional and will not make it sugar free)
Preheat the oven to 300.
Combine the dates, oil, water and cocoa powder in a blender and blend into a thick, smooth paste.
Combine the oats, almonds, peanuts, sesame seeds, cinnamon and salt in a large bowl. Coat with the chocolate mixture.
Spread out in a single layer on a baking sheet and bake for 45 minutes, stirring after each 15 minutes.
While still warm, toss in the chocolate raisins if using. Let cool and serve.